How the potential Canada Post work stoppage affects your online shopping on Thymematernity.com
Due to the advent of a potential Canada Post work stoppage, we found a new shipping solution to ensure reliable and speedy delivery of your Thymematernity.com online orders. Thanks to our collaboration with Purolator, we will continue to ship orders to the majority of our customers with little impact on our efficiency.
Here are a few details to keep in mind before placing online orders during the work stoppage:
We cannot deliver to P.O. Boxes
Access to P.O. boxes is restricted to Canada Post employees. As such, it will not be possible for us to deliver to them during our time using Purolator as a shipping service. Please use a civic address as your shipping address.
Please return your orders in-store
Until the potential work stoppage is resolved, customers seeking to return online purchases are strongly encouraged to bring their returns directly to any applicable Reitmans (Canada) Limited division store in order to claim their refund.
Returns by mail
It is our pleasure to offer you free returns by mail for all online orders shipped within Canada. Since this initiative is based on our partnership with Canada Post, they will not be available during the work stoppage.
If you have received a label for free returns with your order, you may use it to return your items by mail once the work stoppage has ended.
If you have not received a free return label with your order, please contact our Customer Service team after the cessation of the work stoppage. They will gladly email you a free return label you can print out and use.
Check your postal code
While Purolator's shipping service delivers to the majority of our customers, we cannot guarantee complete Canada-wide coverage. To find out if your address is within our coverage region, please use the widget below.
Check your delivery coverage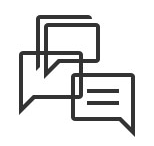 Contact Info
Call us
1-855-908-4963
Monday-Friday 8am-9pm ET
Saturday-Sunday 9am-5pm ET
FAQ
Get instant answers to common questions